ZKg Series Linear Vibrating Screen
Linear Vibrating Screen is characterized by high capacity and excellent screening efficiency. Banana screens can be used in a variety of ways, such as wet and dry screening and dewatering of bulk materials such as hard rock, limestone, phosphate, coal, ore, sand and salt. Continuously adjustable amplitude and optional anti-vibration frame to reduce foundation load are just two of many interesting features.
What is a linear vibrating screen?
The motion trajectory of the linear vibrating screen box is close to a straight line, and there are two axes, so it is also called a dual-axis vibrating screen or rectangle screen. The linear vibrating screen is installed horizontally or obliquely. This type of vibrating screen has a compact structure and stable operation. It is widely used in the dehydration, desliming and de-intermediation of various materials, and also used for dry and wet classification of medium and fine-grained materials.
Linear Vibrating Screen used to be difficult to use a circular vibrating screen to sieve dry/wet including viscous and abrasive materials. Now it can be easily achieved by using a new double-layer horizontal vibrating screen, the Linear Vibrating Screen. The unique single-turn double-convertible screen design of the horizontal screen ensures high screening efficiency and increases productivity.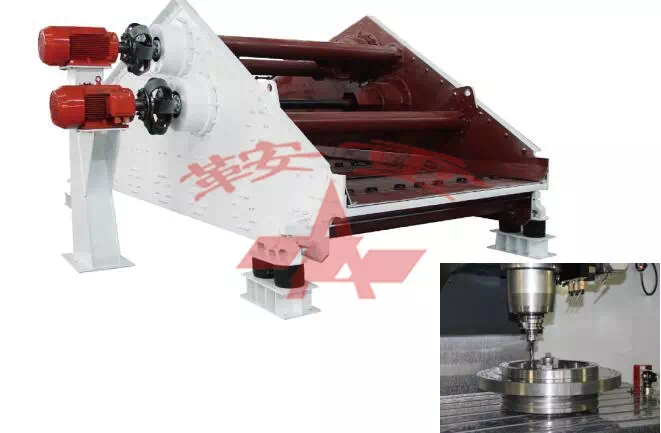 As a screening machine manufacturer in China, Anshan provides the best quality rectangular separators to screen, classify, deblock, and dewater any bulk solids or slurries.
This rectangular screen was invented to handle high feed flow rates and applications that require large-capacity screening. It provides maximum throughput with accurate grading.
The linear design of Linear Vibrating Screen gives it the advantage of allowing applications to flow freely for effective screening.
Linear Vibrating Screen installs two vibration motors on both sides of the screening equipment to ensure proper vibration.
Linear Vibrating Screen Main Features:
● Huck bolted on assembly
● Free welding stress
● Modular decks
● Quad-units vibrator is installed on side plates separately with cylindrical roller bearing inside. Grease lubrication.
● Amplitude is adjustable
● Dual motors individually drive exciter by flexible coupling
● Low noise
● 1.0m-2.4m deck wide, 3.6m-7.3m deck long
● Single deck and double deck
● Inclination 0-15 degree
● Vibrating frequency 970 r/min
● Stroke 7mm-9mm
Linear Vibrating Screen Advantages:
Linear Vibrating Screen is convincing because of its high capacity and advanced and easy-to-maintain technology. The advantages of these screens include:
Suitable for screening hard rock, limestone, ore, coal, phosphate, sand, salt, etc.
Dry and wet screening and dewatering of bulk materials
Principle of Thin Layer Screening
Achieve high throughput rate with high screening efficiency
The material and design of the sieve plate can be adjusted according to the specific application
Constant stroke, continuously adjustable
Use optional anti-vibration frame to reduce dynamic foundation loads
No special tools are required to replace worn parts and spare parts.
Linear Vibrating Screen Benefit:
High specific feed rate
Very sturdy design
Tailored for a wide range of applications
Maximum acceleration, also suitable for large machines
Can use all available screen systems
Optimized drive concept
High availability
Linear Vibrating Screen Technical specifications:
Different sizes and screen performance
Optional ball blasting accessory for cleaning textiles
Different screen lining: PU, spring steel wire, VA vanadium steel, slotted screen, perforated plate, etc.
Linear Vibrating Screen Application:
Linear Vibrating Screen is used in mines, quarries, coal, ore and steel industries. For customized service and detailed information, welcome to contact us!
Working Principles:
The linear vibrating screen is driven by double vibrating motors. The two motor shafts have an inclination angle in the vertical direction relative to the screen surface. Under the combined force of the exciting force and the self-gravity of the material, the material is thrown on the screen surface to jump or move forward in a straight line, so as to achieve the purpose of screening and grading the material. It is suitable for the screening of various dry powder or granular materials with a particle size of 0.074-10mm, a water content of less than 7%, and no stickiness.