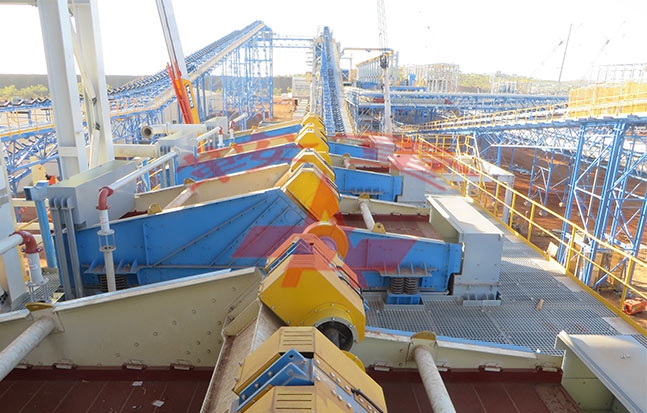 About Us
Welcome to Anshan Heavy Duty Mining
Anshan Heavy Duty Mining Machinery Co., Ltd.-Your most competitive supplier of screening equipment
Founded in 1994, Anshan Heavy Duty Mining Machinery Co., Ltd. is the vibrating screen base in China and leading company in vibrating screen industry. Its registered fund is 232 million RMB and has 600 staffs. It was listed on A share market in China in 2012. It is the only listed company in vibrating screen industry in China. Having a large product range including vibrating screen, crusher, feeder, ball mill, asphalt mixing plant, PC production line, trash separation complete plant, etc. Up to now, 30 series and over 900 specifications of vibrating screens have been developed widely used in all domestic and international industries such as coal ore, iron ore&steel plants, metallurgy&mine, power station, building material, road construction and so on across the country of thirty-two provinces, cities and autonomous region and exported to the overseas such as Australia, Russia, Chile, Peru, Japan, Saudi Arabia, India, Algeria, Turkey, Kazakhstan, Zambia, Tajikistan, Indonesa, Iran, Singapore, Malaysia, Philippines, Mongolia, Vietnam, Papua New Guinea, Congo, Kyrgyzstan,Burma,etc.. We have CE Certification, ISO9001 Certification,, ISO14001 Certification, OHSAS 18001 Certification.
The China Professional Standards of vibrating screen, 53% of the whole 23 professional standards are presided and drafted by our company. Furthermore, we possess 32 patents. The ZKK series wide deck linear vibrating screens possess high production capacity which can achieve the sum total of many common types screens working jointly. In 2008, the 5.05m×11.32m Amplitude Descending Elliptical Vibrating Screen was evaluated the biggest vibrating screen in the world among the same type.
ANZHONG's Quality Guarantee
Powerful processing strength, modernization manufacture system
We have provincial-level technical center, international advanced processing equipment, high precision special technological equipment, more than 600 sets of modernized test & analysis system and inspection & detection instrument and have achieved design modernization, product modularization, process programming, test digitalization.
Advanced technology leading
Design aspects
We adopt solidworks 3D design software and finite element analysis method to reasonably design and scientificly analyse for product structure. Finite element analysis ( FEA) is a mathematical approach, which can be used to simulate actual system.( geometry and load case), which also can adopt the simple & interactional element named unit and make the limited number of unknown quantity to approach the real system of infinite unknown quantity. Besides, determine the deformation position and stress distribution concentration point and strengthen the weakness part by motion track detection of equipment working status. The equipment mode detection can evaluate whether the natural frequency would damage the structure or not when working and avoid the resonance.
Manufacturing aspect
The wheel shaf adopting No.45 steel forgings shall be rough machined, heat treated, fine machined, bluing treated or galvanized treated. The gear adopting 20CrMnTi, forge piece shall be rough machined, fine machined, carburized, gear grinded and reach the five- grade precision. Pretreatment of plate material, all the plate material, profile, welding structures shall be pretreated, relieved of steel internal stress and improved the surface quality. The case body shall be adopted DMG horizontal machine center and completed the processing requirements of all the procedures by being clamped once and have advantages of fast machining speed, high efficiency and precision. The column and beam shall be adopted the pentahedral machining center and completed the processing requirements of all the procedures by being clamped once and have advantages of high efficiency and precision. The key slot shall be adopted the processing equipment of Germany imported key slot and high machining precision. All the welding position shall be machining parts.
Inspecting aspect
We shall detect the material in the physics& chemistry labs and the first article through German Edward three dimention measurement instrument. Adopt the BK vibration test system(Denmark) before ex-works delivery and Ncode fatigue test system(America) for vibration & fatigue test of equipment.
Enterprise Culture
Aim: elaborate design, elaborate manufacture, sincere services
Values: honesty, pragmatism, innovation, struggle, unity
Explanations:
■ Honesty: Faith is the fundamental for all problems, honesty is the basic survival and industrial source.
■ Pragmatism:modesty, reality&pragmatism, steadiness in job &honesty in life
■ Struggle: Hard struggle is the life of enterprise development
■ Unity: Unify thought & action, harmonious development, enterprises revitalization, do some beneficial to clients & staff.