GJZX Series Banana Linear Vibrating Screen
It is mainly used in classification of medium and fine size of material with high content of undersize material.
It is mainly used in classification of medium and fine size of material with high content of undersize material. It can replace sieve bend-horizontal vibrating screen to dewatering, demediuming, desliming and so on.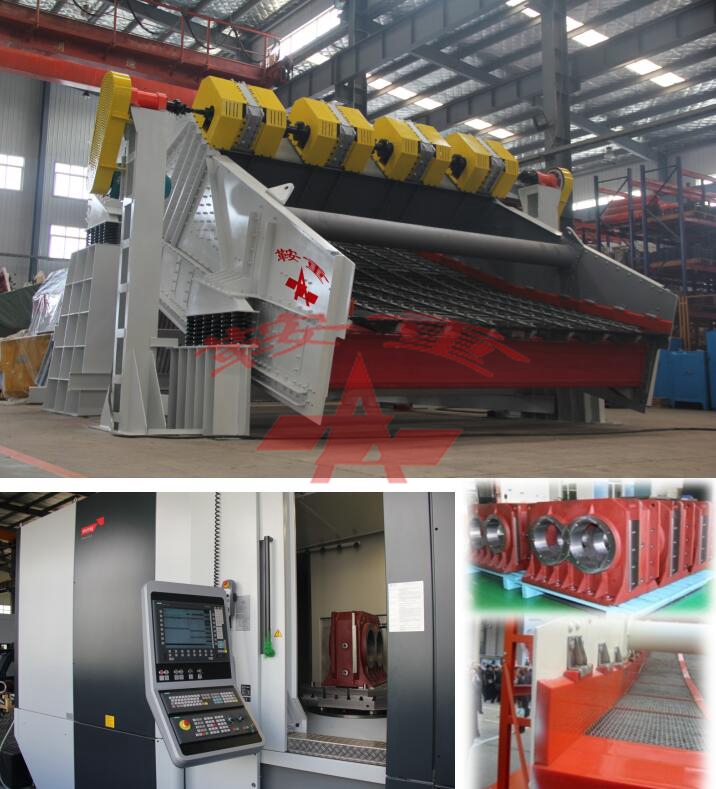 Main Character:
● Multi-slope, 50% higher than conventional screen in capacity
● Huck bolted on assembly
● Free welding stress, rectangular cross Beam lined with rubber
● Modular decks
● Anzhong Brand case type vibrator
Oil lubricated with spherical roller bearing
● Long life bearing , adjustable amplitude
● 1.8m-4.9m deck wide, 6.1-9.11m deck long
● Single deck and double deck
● Vibrating frequency 750-970r/min
● Stroke: 9mm-14mm
Two main operations have to occur for material to be screened: stratification and separation. Stratification is the process of larger sized material rising to the top of the bed, while smaller particles go to the bottom of the bed. Separation is the process by which particles introduced to the screen opening either fall through the opening or do not. Stratification must occur before separation can take place.
Factors that affect stratification include:
The material's travel flow rate down the screen, which is a function of bed thickness, stroke characteristics and screen slope. Generally the steeper the slope of the screen, the faster the rate of travel.
Stroke characteristics, which include amplitude, direction, rotation, types of motion and frequency.
Surface particle moisture; high surface moisture makes stratification difficult.
The separation probability is a function of the ratio between the size of the screen opening and the size of the particle. If the ratio is large — in other words, the particle is much smaller than the opening — there is a high probability the particle will fall through. If the ratio is small — the particle is close in size to the opening — then the probability is low that it will fall through.
Motion on a Vibratory Screen is produced with a combination of amplitude (stroke) and frequency (speed). The goal is to allow the particle to see as many openings as possible as it travels down the screen, but never see the same opening twice. Large screen openings for large cuts can be achieved with high amplitude and low speed. For small screen openings for finer cuts, the opposite is true: low amplitude and high speed.With many years' export experiences, our Fine Vibrating Screen, China Vibrating Screen For Sale,Medium Size Material Vibrating Screen has been welcomed in international markets. Welcome contact us!
TAG:China Vibrating Screen For Sale, Fine Vibrating Screen, Medium Size Material Vibrating Screen