Y(A/K)Q Series Double Shaft Forced Synchronization Elliptical Vibrating Screen
In order to meet the demand of the increasing capacity of crushing and screening plant.
In order to meet the demand of the increasing capacity of crushing and screening plant, our company developed YAQ series large-scale Circular Vibrating Screen. It is a kind of high efficient screening machine for classification of bulk material like coal, coke, ore, sandstone and chemical material. The products are divided into light-duty and heavy-duty. The heavy-duty screen is used for classification of large size material, while the light-duty type for small size material classification.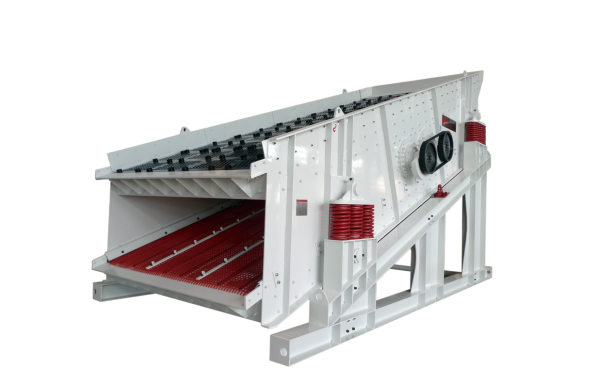 Main Features:
● Large scale for YAg Series circular vibrating screen
● Twin shaft assembly vibrator. Synchronous belt connection
● 2.4m-3.6m deck wide, 6.0m-7.3m deck long
● Single-deck, double-deck and three-deck
● Inclination 12-25 degree
● Vibrating frequency 708-850 r/min
● Stroke 9mm-12mm

To optimally separate waste by sort and size from a single stream or a complex mix of materials is a challenge. Part of the installation for sorting and screening waste is a linear motion vibrating screen, also called a horizontal screen.
Depending on the process, the throughput and screening quality may be improved by inclining the screen. Also, depending on the mixed material stream, the screen decks surfaces are manufactured from steel, polyurethane (PU) for washing material, wire mesh, grizzly screens or disc screens.
The horizontal method of screening provides a thorough and careful separation of a wide variety of materials such as demolition waste, bulk goods, paper and lighter packagings. ANSHAN engineers tailor-made components according to the sieving characteristics of the stream containing materials that differ in, for example, weight, shape (2D/3D, round or square) and density.if you need Quality Power Generation Vibrating Screen,Bulk Material Classification Screen,Large Linear Vibrating Screen,pls leave us messages.
TAG:Quality Power Generation Vibrating Screen, Bulk Material Classification Screen, Large Linear Vibrating Screen