Aug. 10, 2021
Mining is a tough task, which is why equipment needs to be tough, too. Day in and day out, rugged machinery used in mining needs to be able to withstand tons of heavy and jagged rock without slowing or breaking down.
GZT Series vibrating grizzly feeders are developed to handle ROM material with greater capacities. It is used in feeding a primary crusher, reducing the load on the primary crusher, and withstand constant abuse because of the blind plate infeed end, grizzly bears in the discharge end. Fines removed prior to crushing saves valuable energy and can sometimes result in smaller primary crushing capacity requirements.
What does a vibrating grizzly feeder consist of?
Vibrating Grizzly feeders consist of a reinforced disc section with a special liner followed by one or more Grizzly bar sections. The grizzly bears are made of reinforced or hardened steel, and each bar is narrowed in shape so that the section looks like a set of bear claws.
This design allows screening of different sizes of material while also eliminating any clogging problems caused by mined material getting stuck in the slots. The vibration forces the stuck material down the chute until it opens up enough to release the material and transport it along the path, allowing the machine to clean itself.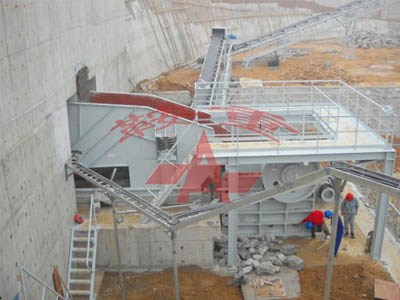 Vibrating Grizzly Feeder
Main features of Vibrating Grizzly Feeders
● Anzhong box type shaker, the motor drives the shaker directly through the flexible coupling.
● Use a frequency controller to change the speed.
● Extra heavy-duty construction, deep side channels, extra heavy-duty beams, and heavy-duty coil spring support system.
● Fixed or adjustable stepped grill openings
● Deck width 0.9-3.0m. Length 2.5m-6.0mm
● 730rpm frequency range, 8-11mm stroke
● Handling -2000mm material
What to pay attention to when using grizzly feeders?
A grizzly feeder is usually located before the crusher or some other processing equipment and is used to remove fines and smaller debris from entering the crusher. Material is dumped into the grizzly from a tipping hopper-fed by a truck or loader, which means it must be able to withstand heavy loads and absorb the impact of the dumped material while continuing to provide a steady feed rate and remove fines and smaller fines before reaching the crusher. If multiple sizes of fines need to be removed, different sections of the grizzly feeder can be used, each with different size gaps between the bars to allow different sizes of material to fall through each section.
These specialized and robust vibratory feeders are used in limestone, bauxite, coal, and other mineral mining or aggregate operations. Carrier vibratory grizzly feeders have also been successfully used in foundries to transport and screen metal castings.
Find a professional vibrating screen supplier
Anshan Heavy Duty Mining Machinery Co., Ltd. is the vibrating screen base in China and a leading company in the vibrating screen industry. We have CE Certification, ISO9001 Certification, ISO14001 Certification, OHSAS 18001 Certification.
The China Professional Standards of vibrating screen, 53% of the whole 23 professional standards are presided and drafted by our company. Furthermore, we possess 32 patents. Welcome to contact us today or request a quote.