Jan. 14, 2021
The impact crusher is developed by absorbing the advanced technology at home and abroad and combining with the specific mining conditions of domestic sand and gravel industry. It adopts advanced manufacturing technology and special structure design, the finished products are cubic in shape, without tension and cracks, and the grain shape is quite good. It can crush various coarse, medium and fine materials (granite, limestone, concrete, etc.) with feed size not exceeding 500mm and compressive strength not exceeding 350MPa.
The main parts of impact crusher are spring, bar, front impact frame, rear impact frame, impact liner, square steel, impact liner bolts, flap device, main shaft, plate hammer, rotor frame, liner plate, locking block, compression block, etc.
Next, the impact crusher supplier will explain what are the advantages of impact crusher.
Advantages of impact crushers
(1) Uniform size of discharge, good particle size, very low content of fine powder and dust.
(2) Low operating cost and low investment cost. The weight of the impact crusher and the shape size are small compared with the hammer crusher, which can effectively reduce the civil construction cost. And the same output of the two types of equipment, impact crusher requires lower motor power, can effectively reduce the power consumption of the equipment, reduce the cost of operation.
(3) The long service life of the wearing parts of the impact crusher and the semi-automatic hydraulic opening device can help to check and maintain the equipment and replace the wearing parts faster and with less effort.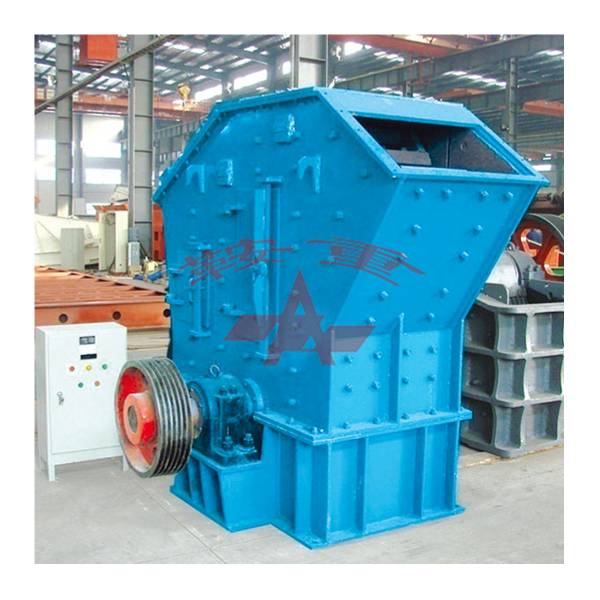 Working Principle
The impact crusher is a kind of crushing machine that uses the impact energy to crush the materials. When the machine works, the rotor rotates at high speed driven by the electric motor, and the materials enter the hammer zone, then they are crushed by the impact of the hammer on the rotor, then they are thrown to the impact device and crushed again, and then they are bounced back to the hammer zone from the impact liner. The material is crushed again and again until it is crushed to the required size and discharged from the discharge port. Adjusting the gap between the impact frame and the rotor can change the material size and shape of the material.
PF Series Impact Crusher is used in crushing crispy, medium hard materials such as limestone, coal, gangue, coke, etc. It is used for secondary crushing and fine crushing.
PF Series Impact Crusher
1.Large capacity, big crushing ratio, angular shape aggregate, little over crushed product.
2.Convenient maintenance, high reliability, wide application.
3.Simple structure, low maintenance cost.