Nov. 23, 2021
Screening plays an important role in many industries. It separates valuable minerals and materials from the waste rock, debris, and other excess elements that do not require further processing. This process takes place in a wide variety of industries such as mining, mineral processing, agriculture, pharmaceuticals, food, plastics, and recycling.
Screening in mineral processing
The screening process is heavily used in both the mining and mineral processing industries as it effectively separates and filters important minerals from the newly extracted material. Once the minerals have been filtered and separated from the excess material, they are further processed according to their commercial use.
In order to make mineral processing possible, a key piece of equipment is required - a sifter. The machine contains a drive that causes vibrations, a screen media that causes the particles to separate, and a deck that houses the screen media and the drive. This special deck is also used as a means of transport for vibratory movement.
The efficiency of the screening process depends on several factors. These factors include vibration, g-force, bed density, and material shape. The electrostatic forces such as water and dry material can also affect the screening efficiency.
Benefits of high-quality screening equipment
The use of high-quality screening equipment is important for screening minerals as they can provide you with a number of benefits. One of the benefits of using high-quality screening equipment is that it can effectively produce minerals with the particle distribution or characteristics you require. Another benefit of using them is that they can remove fines and finished products before an additional reduction step.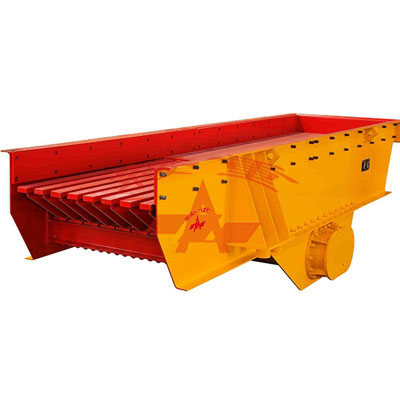 Vibrating Grizzly Feeder
High-quality screening equipment also allows you to protect the process equipment and maintain the finished product characteristics. They can also be used to divert the feed stream between separate processing lines. Another benefit of using high-quality screening equipment is that they ensure plant maintenance and cleanliness, as all fines are immediately removed from the process and handled separately.
Finally, the use of high-quality screening equipment reduces operating costs and increases the plant's ability to process and screen minerals.
Different screening equipment options
Today's screening equipment varies according to your needs.
Vibratory pan feeders: Vibratory pan feeders can be suspended or mounted on feet depending on the application requirements and plant configuration. They can also provide a uniform and controlled flow of material to crushers, screens, mills, scrubbers, and conveyors.

Grizzly Feeders: The vibration of Grizzly Feeders causes the material to slide and sling over the funnel. Once the material has passed through the screening section, only a smaller portion will fall further in the crushing process. These feeders are designed for mobile, portable, stationary, and continuous screening of any hard and abrasive material.


Horizontal Screens: Horizontal screens provide extremely high accuracy in particle size measurement because the material stays on the screen longer, thus slowing down the movement to the end of the screen. This set-up and orientation of the horizontal screen allow a more suitable size of the material to fall through the screen opening.

Inclined screens: Inclined screens are probably the most popular type of screening equipment. These screens are well known because they can be easily adjusted to improve overall screening performance and efficiency. They are able to change slope, speed, stroke, and direction of rotation, so they can be customized to their intended application.
Using high-quality screening equipment allows you to perform the screening process without compromising on product quality. If you have further questions about the entire screening process and equipment, please contact us.